Author's Name: Tim and Kate Shierlaw
Date: Mon 30 Sep 2019
2020 Victor Harbor Art Show Entries Are Open
ENTRIES ARE NOW OPEN FOR THE 41st VICTOR HARBOR ART SHOW
We look forward to seeing the great variety of art that will be entered competing for the coveted $12,500 Victor Harbor Art Prize or one of the other prizes from the total $32,600 prize pool.
We are excited to announce that we opening entries this year to sculptures. Sculptures must be less than 80kg in weight and 1.2 cubic metres in volume and be able to be hung on a peg board or be able to be freestanding on a table or plinth. The best sculpture will be awarded a $500 cash non acquisitive prize.
You can enter through our website www.victorharborartshow.com.au. Once you register with our partner Gallery 247, you click on Log in Enter Victor Harbor Art Show. This will take you to Gallery 247 to enter your details and upload your photos. You can see the Help button for full instructions. You will receive acknowledgement of your entry but your paintings are not accepted until after the close of entries when you will be notified and receive labels for the accepted paintings. The entry payment will then be processed. This will be in early December.
If you have any queries or need assistance with your entry you can email John at entries@victorharborartshow.com.au
Entries will close on 30th November 2019.
Happy Painting and Sculpturing!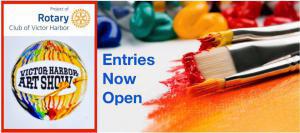 Share this with your friends